, 
Saturday, 19 November 2011 16:00:00 (UTC/GMT)
NetworkMiner 1.2 is now available!
For those who are not familiar with the network forensics tool NetworkMiner, it's a portable Windows application that analyzes network traffic. NetworkMiner comes in two flavors; a free open source version and a commercial version called "NetworkMiner Professional".
Some of the new features in version 1.2 of NetworkMiner (free as well as pro version) are:
NetworkMiner is now platform independent and can be run on Linux, Mac etc. with help of Mono.
Better parsing of emails sent with SMTP.
Content extraction of emails went with AOL webmail as in "The L33t Pill" from the Network Forensics Puzzle Contest.
Content extraction from unencrypted SquirrelMail webmail posts.
Content extraction of comments sent to Wordpress and Blogspot blogs.
Support for GRE encapsulation.
Better handling of truncated pcap files that are cut in the middle of a frame.
Updated "Details" column in "Files" tab to display the HTTP host name as well as the URI from where the file was retrieved.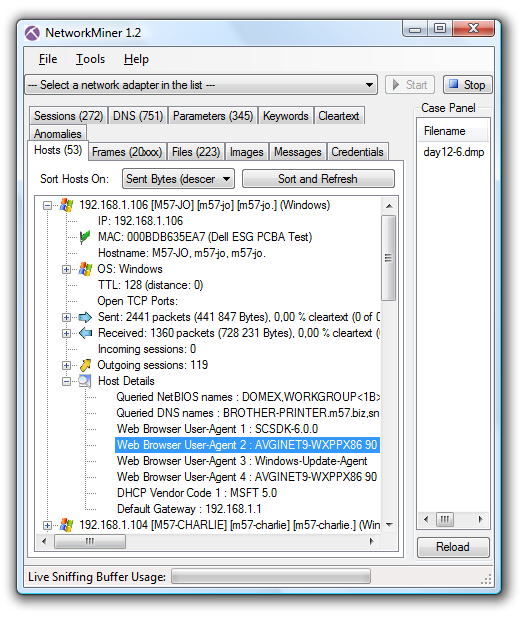 NetworkMiner 1.2 with the Hosts tab open
Upgrading from NetworkMiner Professional 1.x
We offer free upgrades for users running older versions of NetworkMiner Professional. Just send an email to info [at] netresec.com with your current version number as well as license number (which you can find under the menu "Help" > "About Network Miner") and say that you'd like to upgrade to version 1.2.
Posted by Erik Hjelmvik on Saturday, 19 November 2011 16:00:00 (UTC/GMT)
Tags: #Netresec​