, 
Monday, 18 October 2021 10:30:00 (UTC/GMT)
My lightning talk from the SEC-T 0x0D conference has now been published on YouTube. This 13 minute talk covers tactics and techniques that the SolarWinds hackers used in order to avoid being detected.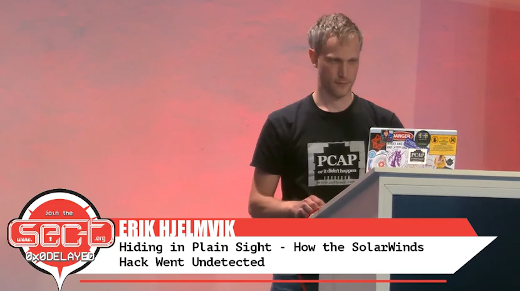 Some of these tactics included using DNS based command-and-control (C2) that mimicked Amazon AWS DNS traffic, blending in with SolarWind's legitimate source code and handpicking only a small number of targets.
One thing I forgot to mention in my SEC-T talk though, was the speed at which the attackers were working to analyze incoming data from the trojanized installs and selecting organizations to target for stage two operations.

For example, just during June 2020 the attackers got more than 1300 new organizations that started beaconing in using the DNS-based C2. The beaconed data only included the organizations' Active Directory domain name and a list of installed security applications. Based on this information the attackers had to decide whether or not they wanted to target the organization. We have previously estimated that less than 1% of the organizations were targeted, while the malicious backdoor was disabled for all the other 99% who had installed the trojanized SolarWinds Orion update.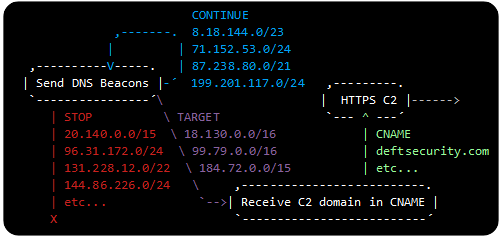 The attackers typically decided whether or not to target an organization within one week from when they started beaconing. This means that the attackers probably had several hundred organizations in queue for a targeting decision on any given week between April and August 2020. That's a significant workload!
Posted by Erik Hjelmvik on Monday, 18 October 2021 10:30:00 (UTC/GMT)
Tags: #SolarWinds​ #SEC-T​ #video​ #backdoor​ #SUNBURST​ #Solorigate​ #STAGE2​ #Stage 2​ #DNS​ #C2​ #ASCII-art​