, 
Saturday, 01 February 2014 20:45:00 (UTC/GMT)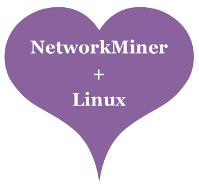 NetworkMiner is a network forensics tool primarily developed for Windows OS's, but it actually runs just fine also in other operating systems with help of the Mono Framework. This guide shows how to install NetworkMiner in three different Linux distros (Ubuntu, Fedora and Arch Linux).
STEP 1: Install Mono
Ubuntu (also other Debian based distros like Xubuntu and Kali Linux)

sudo apt-get install libmono-system-windows-forms4.0-cil
sudo apt-get install libmono-system-web4.0-cil
sudo apt-get install libmono-system-net4.0-cil
sudo apt-get install libmono-system-runtime-serialization4.0-cil
sudo apt-get install libmono-system-xml-linq4.0-cil
If you're on an old version of Debian/Ubuntu (e.g. Ubuntu 14.04) then you first need to add the Mono Project GPG signing key and the package repository.

Fedora (credit Renegade0x6)

sudo yum -y install mono-core
sudo yum -y install mono-basic mono-winforms expect
ArchLinux (credit: Tyler Fisher)

sudo pacman -Sy mono
Other Operating Systems
Users of other Linux flavors as well as Mac OS X can download and install the Mono Framwork from www.mono-project.com/Downloads
---
STEP 2: Install NetworkMiner
wget www.netresec.com/?download=NetworkMiner -O /tmp/nm.zip
sudo unzip /tmp/nm.zip -d /opt/
cd /opt/NetworkMiner*
sudo chmod +x NetworkMiner.exe
sudo chmod -R go+w AssembledFiles/
sudo chmod -R go+w Captures/
---
STEP 3: Run NetworkMiner
mono NetworkMiner.exe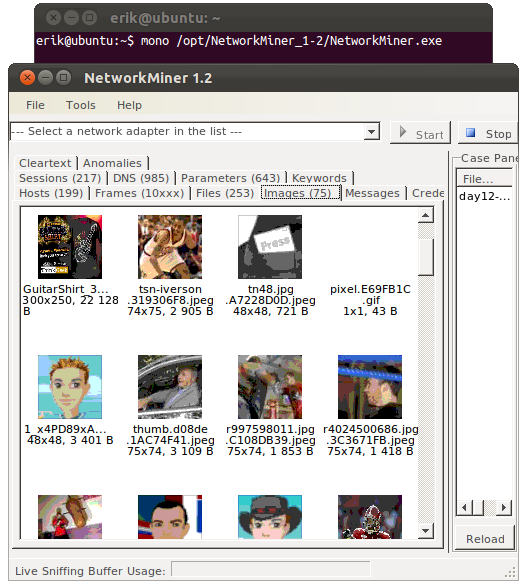 NetworkMiner 1.2 running under Ubuntu Linux, with "day12-1.dmp" from the M57-Patents Scenario loaded.
Live CD's
Another way to try out NetworkMiner in Linux is to spin up one of the Live CD's that has the tool installed, such as Security Onion, REMnux or NST.
Live sniffing with NetworkMiner
In order to capture packets (sniff traffic) in Linux you will have to use the "PCAP-over-IP" feature. NetworkMiner is, however, not really designed for packet capturing; it is primarily a tool for parsing and analyzing PCAP files containing previously sniffed traffic.
We recommend using other tools such as tcpdump, dumpcap or netsniff-ng in order to reliably capture packets to a PCAP file. You can read more on how to sniff traffic in our Sniffing Tutorial.
Posted by Erik Hjelmvik on Saturday, 01 February 2014 20:45:00 (UTC/GMT)
Tags: #NetworkMiner #Linux #mono #network forensics