NETRESEC Network Security Blog
Wednesday, 28 September 2016 11:45:00 (UTC/GMT)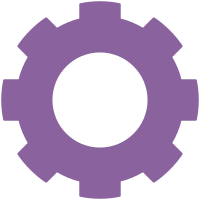 Have you ever wanted to go back in time to get a PCAP of something strange that just happened on a PC?
I sure have, many times, which is why we are now releasing a new tool called PacketCache. PacketCache maintains a hive of the most important and recent packets, so that they can be retrieved later on, if there is a need.
Network forensics and incident response is performed post-event, but requires that packet have already been captured during the event to be analyzed. Starting a network sniffer after a suspected intrusion might provide useful insight on what the intruders are up to, but it is much better to be able to go back in time to observe how they gained access to the network and what they did prior to being detected. Many companies and organizations combat this problem by setting up one or several solutions for centralized network packet capturing. These sniffers are typically installed at choke-points on the network, such as in-line with a firewall. However, this prevents the sniffers from capturing network traffic going between hosts on the same local network. Intruders can therefore often perform lateral movement on a compromised network without risk getting their steps captured by a packet sniffer.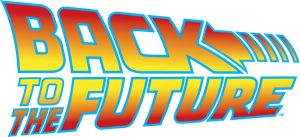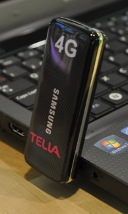 We're now trying to improve the situation for the defenders by releasing PacketCache, which is a free (Creative Commons licensed) Windows service that is designed to continuously monitor the network interfaces of a computer and store the captured packets in memory (RAM). PacketCache monitors all IPv4 interfaces, not just the one connected to the corporate network. This way traffic will be captured even on public WiFi networks and Internet connections provided through USB broadband modems (3G/4G).
By default PacketCache reserves 1% of a computer's total physical memory for storing packets. A computer with 4 GB of RAM will thereby allow up to 40 MB of packets to be kept in memory. This might not seem like much, but PacketCache relies on a clever technique that allows it to store only the most important packets. With this technique just 40 MB of storage can be enough to store several days worth of "important" packets.
The "clever technique" we refer to is actually a simple way of removing packets from TCP and UDP sessions as they get older. This way recent communication can be retained in full, while older data us truncated at the end (i.e. only the last packets are removed from a session).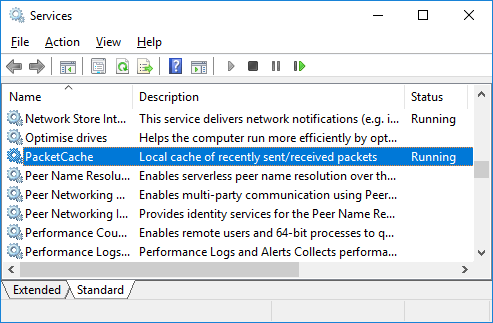 To download PacketCache or learn more about this new tool, please visit the official PacketCache page: https://www.netresec.com/?page=PacketCache
PCAP or it didn't happen!

Share  | 




Short URL: http://netres.ec/?b=169D0D2
Posted by Erik Hjelmvik on Wednesday, 28 September 2016 11:45:00 (UTC/GMT)
Tuesday, 27 September 2016 09:27:00 (UTC/GMT)
As of today we officially launch the 'Netresec Bug Bounty Program'. Unfortunately we don't have the financial muscles of Microsoft, Facebook or Google, so instead of money we'll be giving away t-shirts.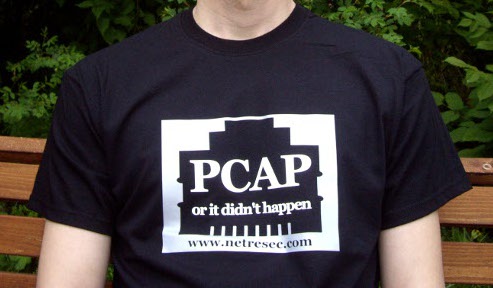 Image: PCAP or it didn't happen t-shirt
To be awarded with one of our 'PCAP or it didn't happen' t-shirts you will have to:
Be able to reliably crash the latest version of NetworkMiner or CapLoader, or at least make the tool misbehave in some exceptional way.
Send a PCAP file that can be used to trigger the bug to info[at]netresec.com.
Those who find bugs will also receive an honorable mention in our blog post covering the release of the new version containing the bug fix.
Additionally, submissions that play a key-role in mitigating high-severity security vulnerabilities or addressing very important bugs will be awarded with a free license of either NetworkMiner Professional or the full commercial version of CapLoader.
Happy BugBounty Hunting!

Share  | 




Short URL: http://netres.ec/?b=169D9B1
Posted by Erik Hjelmvik on Tuesday, 27 September 2016 09:27:00 (UTC/GMT)
Monday, 23 May 2016 11:55:00 (UTC/GMT)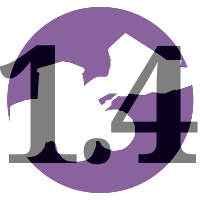 I am happy to announce a new release of our super-fast PCAP handling tool CapLoader! One of the new features in CapLoader makes it even easier to detect malicious network traffic without having to rely on blacklists, such as IDS signatures.
The new version of CapLoader includes new features such as:
Services Tab (more details below)
Input filter to limit number of parsed frames
Flow Transcript in Hosts and Services tabs
Keyword filtering
Full filtering capability for all tabs
Wireshark style coloring of flows, services and hosts
Services Tab
The biggest addition to version 1.4 of CapLoader is the Services tab, which presents a somewhat new way of aggregating the flows found in a PCAP file. Each row (or "service") in the services tab represents a unique combination of <Client-IP, Server-IP, Server-port and Transport-protocol>. This means that if a single host makes multiple DNS requests to 8.8.8.8, then all those flows will be merged together as one row in the services tab.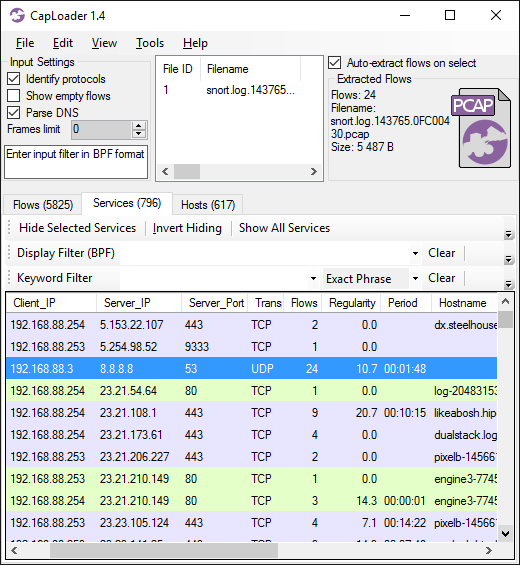 This view makes it easy to see if a host is frequently accessing a particular network service. CapLoader even shows if the requests are made with regular intervals, in which case we measure the regularity and determine the most likely period between connections. The idea for measuring regularity comes from Sebastian Garcia's Stratosphere IPS, which can identify botnets by analyzing the periodicity of flows going to a C2 server.
Malware Example: Kovter.B
Here's what the Services tab looks like when loading 500 MB of PCAP files from a network where one of the hosts has been infected with malware (Win32/Kovter.B).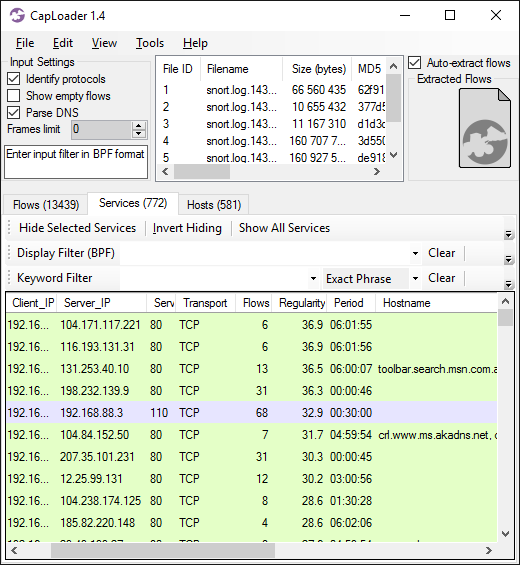 The services in the screenshot are sorted on the "Regularity" column, so that the most periodic ones are shown at the top. Services with a regularity value greater than 20 can be treated as periodic. In our case we see the top two services having a regularity of 36.9 with an estimated period of roughly 6h 2min. We can visualize the periodic behavior by opening the flows for those two services in a new instance if CapLoader. To do this, simply select the two services' rows, right-click the PCAP icon (in the top-right corner) and select "Open With > CapLoader 1.4.0.0"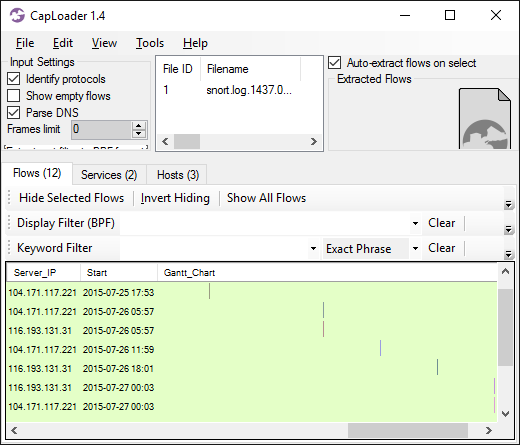 As you can see in the flows tab, these services are accessed by the client on a regular interval of about 6h 2min. Doing a flow transcript of one such flow additionally reveals that the payload seems suspicious (not HTTP on TCP 80).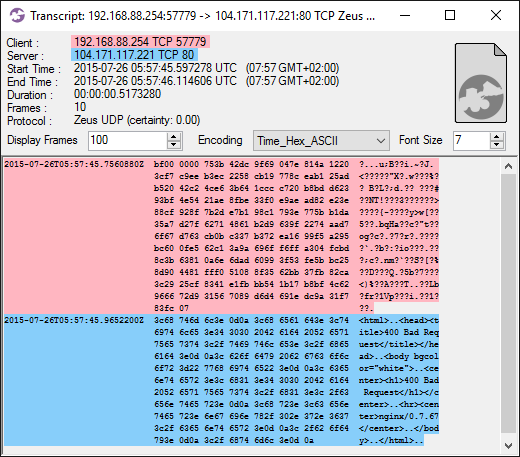 Image: Kovter.B malware trying to communicate with a C2 server
The Kovter malware failed to reach the C2 server in the attempt above, but there is a successful connection going to a C2 server at 12.25.99.131 every 3'rd hour (see service number 8 in the list of the most periodically accessed services). Here's a flow transcript of one such beacon: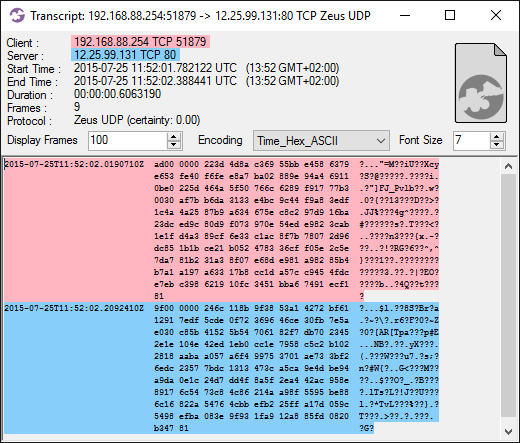 Image: Kovter.B malware talking to C2 server at 12.25.99.131
Legitimate Periodic Services
Seven out of the 10 most periodically accessed services are actually caused by the Kovter malware trying to reach various C2 servers. The three most periodically accessed services that aren't malicious are:
Service #3 is a legitimate Microsoft service (SeaPort connecting to toolbar.search.msn.com.akadns.net)
Service #5 is a mail client connecting to the local POP3 server every 30 minutes.
Service #6 is Microsoft-CryptoAPI updating its Certificate Revocation List from crl.microsoft.com every 5 hours.
Signature-Free Intrusion Detection
As shown in this blog post, analyzing the regularity of services is an efficient way of detecting C2 beacons without having to rely on IDS signatures. This method goes hand-in-hand with our Rinse-Repeat Intrusion Detection approach, which can be used to find malicous network traffic simply by ignoring traffic that seems "normal".
Credits
Several bugs have been fixed in CapLoader 1.4, such as:
Support for frames with Captured Length > Real Lenght (Thanks to Dietrich Hasselhorn for finding this bug)
Delete key is no longer hijacked by the "Hide Selected Flows" button (Thanks to Dominik Andreansky for finding this bug).
CapLoader GUI now looks okay even with graphics are scaled through "custom sizing". Thanks to Roland Wagner for finding this.
Downloading CapLoader 1.4
The regularity and period detection is available in our free trial version of CapLoader. To try it out simply grab a copy here:
https://www.netresec.com/?page=CapLoader#trial (no registration needed)
All paying customers with an older version of CapLoader can grab a free update to version 1.4 at our customer portal.
UPDATE June 2, 2016
We're happy to announce that it is now possible to detect Kovter's C2 communication with help of an IDS signature thanks to Edward Fjellskål. Edward shared his IDS signature "NT TROJAN Downloader/Malware/ClickFraud.Win32.Kovter Client CnC Traffic" on the Emerging-Sigs mailing list yesterday. We have worked with Edward on this and the signature has been verified on our Kovter C2 dataset.
UPDATE June 8, 2016
Edward Fjellskål's IDS signature "ET TROJAN Win32.Kovter Client CnC Traffic" has now been published as an Emerging Threats open rule with SID 2022861.
#alert tcp $HOME_NET any -> $EXTERNAL_NET any (msg:"ET TROJAN Win32.Kovter Client CnC? Traffic"; flow:established,to_server; dsize:4<>256; content:!"HTTP"; content:"|00 00 00|"; offset:1; depth:3; pcre:"/^[\x11\x21-\x26\x41\x45\x70-\x79]/R"; content:!"|00 00|"; distance:0; byte_jump:1,0,from_beginning,post_offset 3; isdataat:!2,relative; pcre:!"/\x00$/"; reference:url,symantec.com/connect/blogs/kovter-malware-learns-poweliks-persistent-fileless-registry-update; classtype:trojan-activity; sid:2022861; rev:1;)

Share  | 




Short URL: http://netres.ec/?b=165BF7D
Posted by Erik Hjelmvik on Monday, 23 May 2016 11:55:00 (UTC/GMT)