NetworkMiner Professional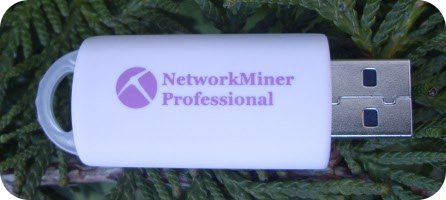 There are two forms of licenses available for NetworkMiner Professional:
Single User License
Price: $ 1200 USD per license
Each license is registered to an individual employee.
Valid for three years from purchase.
Free updates and support throughout the license period.
Corporate License
Price: $ 6000 USD
A license that can be used by an unlimited number of employees at your company/organization.
Perpetual license (never expires).
Free updates and support during the first year.
An optional updates and support service is available from year two.
Delivery Options
Electronic Software Download (ESD)

ESD Licenses are delivered as a download link sent through email together with a password sent as an SMS text message to a mobile phone. A mobile phone number is not needed if the ESD email supports PGP encrypted emails.

Physical shipment of software on a custom USB flash drive

Additional costs for shipping/handling will be added to the invoice when buying NetworkMiner on a physical USB flash drive. Shipping costs vary between $ 81 and $ 191 USD depending on destination (US and Canada: $ 141 USD, European Union: $ 81 USD).
Note: The product is exactly the same, regardless of delivery method.
Product Specifications
A specification of the features included in NetworkMiner Professional can be downloaded as a PDF file.
Buy NetworkMiner Professional
Our office is temporarily closed until October 2, 2023. We will not be able to process any orders during that time.
Get NetworkMiner Professional from our Online Store
The fastest way to get NetworkMiner Professional is to buy an electronic software download directly at our Online Store. There are no shipping charges when purchasing an electronic software download.
Visit our online store here:
https://www.netresec.com/?page=Store
Standard process for purchasing a NetworkMiner Professional license:
Download the NetworkMiner Professional order form
Fill out the form and e-mail it to sales@netresec.com
After we have processed your order we will email you a pro-forma invoice, which shall be payed before we deliver your ordered product(s)
Pay the pro-forma invoice by bank transfer or with credit card
Your purchased product will now be delivered to you!
Please also read our
Terms and Conditions
.
The NetworkMiner Professional order form can be used to purchase one Corporate License and up to 5 individual Single User Licenses.
NetworkMiner Professional is also available as part of our Network Forensics Bundle.
Frequently Asked Questions - FAQ
Q: Do I need to supply the first and last name of the user when buying a single user license?
A: Yes, we will need to know the name of the user when buying a single user license. You will need to buy a corporate license if you do not wish to register the software to a specific person.
Q: Can I buy a single user license for only one year?
A: No, The shortest validity time for a single user license is 3 years.
Q: What happens when a single user license expires?
A: The software will no longer start, you will need to buy a new license to continue using the product.
Q: What happens if I don't extend the support for my corporate license?
A: The software will continue working just as before, but you will not receive any updates/new versions.
Q: Can we get a discount?
A: No, we never provide discounts. Not even to resellers, distributors, academic institutions, law enforcement or government organizations.
Q: Is a USB dongle or other form of hardware key needed to run the software?
A: No.
Q: Is a NetworkMiner Professional FIPS compliant?
A: No, NetworkMiner Professional uses cryptographic algorithms that are not FIPS 140-compliant. FIPS enforcement must be disabled on the PC in order to run NetworkMiner Professional.