Purchase NetworkMiner Professional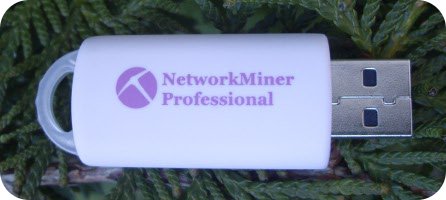 NetworkMiner Professional is sold on a specially designed USB flash drive. You can run NetworkMiner Professional directly from the USB flash drive, since NetworkMiner is a portable application that doesn't require installation. We at Netresec do, however, recommend that you copy the application to the local hard drive of your computer to achieve maximum performance when analyzing pcap files.
There are two forms of licenses available for NetworkMiner Professional:
Single User License
A license that is registered to an individual employee.
Price: $ 900 USD per license
Corporate License
A license that can be used by an unlimited number of employees at your company/organization.
Price: $ 4500 USD
Additional costs for shipping/handling will be added to the invoice. Shipping costs vary between $ 81 and $ 191 USD depending on destination (US and Canada: $ 141 USD, European Union: $ 81 USD).
All licenses are valid for 3 years from the purchase date. Free support and minor version upgrades are provided throughout the license period.
Each purchased license will be delivered on an individual NetworkMiner Professional USB flash drive.
Get NetworkMiner Professional from our Online Store
The fastest way to get NetworkMiner Professional is to buy an electronic software download directly at our Online Store. There are no shipping charges when purchasing an electronic software download.
Visit our online store here:
https://www.netresec.com/?page=Store
Standard process for purchasing a NetworkMiner Professional license:
Download the NetworkMiner Professional order form
Fill out the form and e-mail it to sales[at]netresec.com
After we have processed your order we will email you a pro-forma invoice, which shall be payed before we deliver your ordered product(s)
Pay the pro-forma invoice by bank transfer or with credit card
Your purchased product will now be delivered to you!
Please also read our
Terms and Conditions
.
The NetworkMiner Professional order form can be used to purchase one Corporate License and up to 5 individual Single User Licenses.