, 
Tuesday, 27 September 2016 09:27:00 (UTC/GMT)
As of today we officially launch the 'Netresec Bug Bounty Program'. Unfortunately we don't have the financial muscles of Microsoft, Facebook or Google, so instead of money we'll be giving away t-shirts.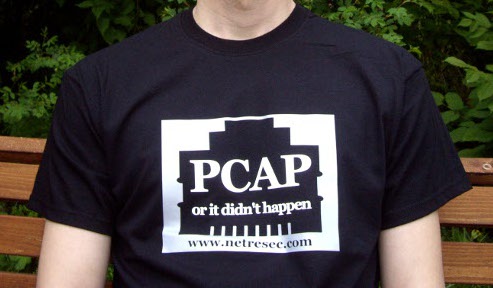 Image: PCAP or it didn't happen t-shirt
To be awarded with one of our 'PCAP or it didn't happen' t-shirts you will have to:
Be able to reliably crash the latest version of NetworkMiner or CapLoader, or at least make the tool misbehave in some exceptional way.
Send a PCAP file that can be used to trigger the bug to info[at]netresec.com.
Those who find bugs will also receive an honorable mention in our blog post covering the release of the new version containing the bug fix.
Additionally, submissions that play a key-role in mitigating high-severity security vulnerabilities or addressing very important bugs will be awarded with a free license of either NetworkMiner Professional or the full commercial version of CapLoader.
Happy BugBounty Hunting!
Posted by Erik Hjelmvik on Tuesday, 27 September 2016 09:27:00 (UTC/GMT)
Tags: #NetworkMiner​ #CapLoader​ #PCAP​ #Netresec​