Capture files from 4SICS Geek Lounge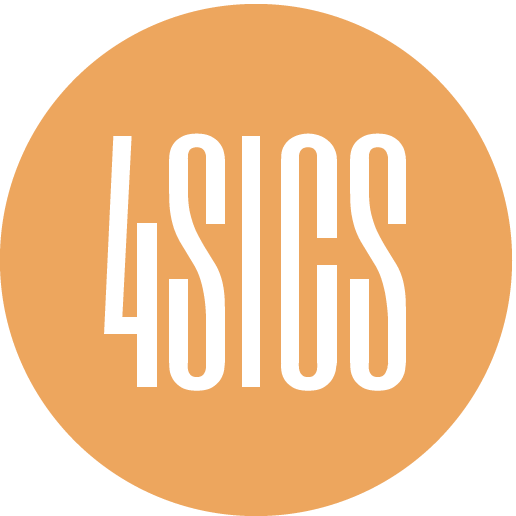 The industrial cyber security conference 4SICS (now CS3Sthlm) is an annual summit that gather the most important ICS/SCADA cyber security stakeholders across critical industries (i.e. energy, oil & gas, water, transportation and smartgrid etc).
The "Geek Lounge" at 4SICS contains an ICS lab with PLCs, RTUs, servers, industrial network equipment (switches, firewalls, etc). These devices are available for hands-on "testing" by 4SICS attendees.
We at Netresec have worked with the 4SICS crew to capture the network traffic at the ICS lab. The idea is to share the captured PCAP files on the Internet, since network traffic from industrial networks is a really scarce resource!
We kindly ask you to credit CS3Sthlm, for allowing the network traffic from the 4SICS lab to be captured and shared, if you will re-distribute this dataset or use it as part of a training. We would also appreciate a link back to this page.
4SICS 2015 PCAP Files
Devices in the ICS Lab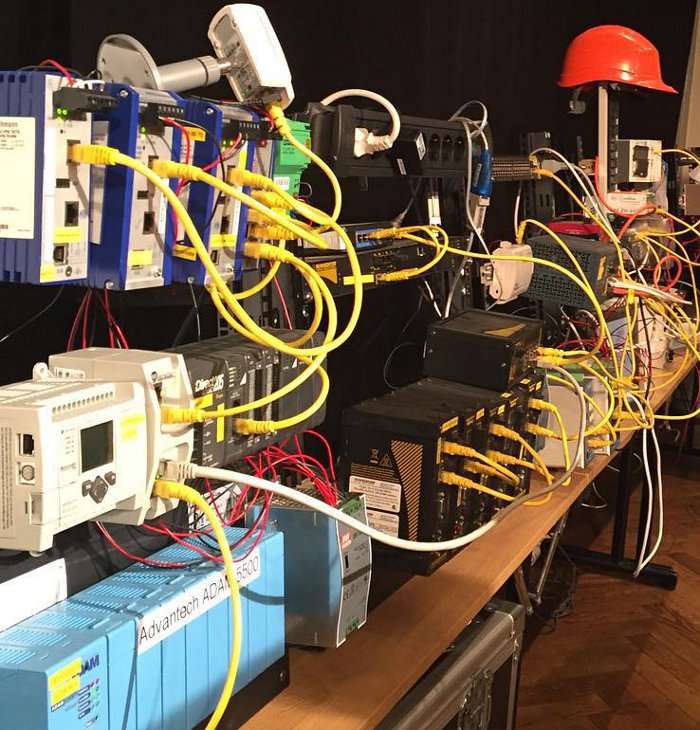 Rack 1 to 5. Image Credit: 4SICS
Rack #1 (from left)
192.168.88.15 DirectLogic 205 (PLC)
192.168.88.20 Phoenix Contact FL IL 24 BK-PAC (Ethernet bus coupler)
Open Ports: 80 (HTTP), 502 (Modbus/TCP), 1962
192.168.88.25 Advantech ADAM-5500 (Ethernet I/O module)
Open ports: 21 (FTP), 80 (HTTP), 81
192.168.88.49 AXIS 206 Network Camera
Open ports: 21 (FTP), 80 (HTTP), 49152 (UPnP)
192.168.88.75 Hirchmann EAGLE 20 Tofino (Firewall)
Open ports: 22 (SSH), 443 (HTTPS)
--unknown-ip-- Allen-Bradley Stratix 6000 (managed switch)
Rack #2
192.168.88.30 Siemens SIMATIC S7-1200 (PLC)
Open Ports: 102 (S7 protocol), 5001
192.168.88.91 RUGGEDCOM RS910 (Serial device server and ethernet switch)
192.168.88.92 RUGGEDCOM RS910
192.168.88.93 RUGGEDCOM RS910
192.168.88.95 RUGGEDCOM RS910
Open ports: 22 (SSH), 23 (Telnet), 80 (HTTP), 443 (HTTPS), 502 (Modbus), 514 (RSH), 20000 (DNP3)
192.168.89.1 RUGGEDCOM RX1100 (Router)
Rack #3
192.168.88.50 Red Lion DSP (protocol converter)
Open ports: 80 (HTTP), 502 (Modbus/TCP)
192.168.88.60 Moxa EDS-508A (Switch)
Open ports: 22 (SSH), 23 (Telnet), 80 (HTTP), 443 (HTTPS), 502 (Modbus), 4000, 4001
192.168.88.61 Moxa EDS-508A (Switch)
Open ports: 22 (SSH), 23 (Telnet), 80 (HTTP), 443 (HTTPS), 502 (Modbus), 4000, 4001, 44818
192.168.88.70 Cisco Catalyst 2955 (Switch)
192.168.88.80 Moxa UC-7112 (Embedded computer)
192.168.88.100 HOST Engineering MB-gateway (Modbus gateway)
Open ports: 80 (HTTP), 502 (Modbus)
Rack #4
192.168.88.51 Beckhoff CX1010 (Win CE, open port: 1234)
Open ports: 23 (Telnet), 80 (HTTP), 135, 443, 1234, 5120
192.168.88.85 xLogic x-Messenger EXM-12DC-DA-RT-WiFi (WiFi PLC)
192.168.88.105 TCP/IP to RS-232/422/484 Converter
Rack #5 (the one on the right)
192.168.88.1 and 192.168.87.1 Westermo Lynx 3643-0105 (Router)
--unknown-ip-- Westermo Lynx 3643-0105 (Router)
Devices not found in a rack
192.168.88.115 Westermo Digi
Open ports: 22 (SSH), 23 (Telnet), 80 (HTTP), 443 (HTTPS), 7000 (Telnet), 7001-7025 (Telnet?!)
Client Network (where the "hackers" are)
Svenska Kraftnät (Swedish Grid)
10.10.10.10 Siemens SIMATIC S7 (PLC)
Open Port: 102 (S7 protocol)
10.10.20 unknown
10.10.30 Windows PC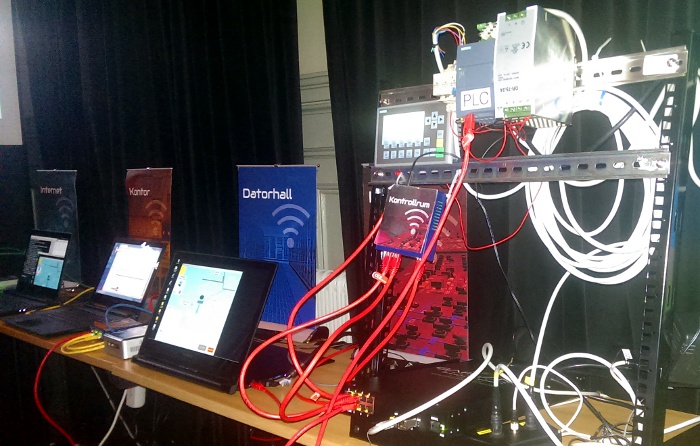 Network of demo installation for Svenska Kraftnät (Swedish Grid). Photo credit: Patrick Nixdorf